I am so excited to share this little bit of my life today! The item you see below is a chest of drawers that my grandmother recently gave me.
This is not just any old dresser. Family lore has it that the dresser came over to America with my great-great-great grandfather, James Davidson, when he emigrated from Scotland in the 1860s. Below you can see the census record for the Davidson family living at 57 High Street in Kirkcowan, Wigtownshire, Scotland in 1861. (Click on image for larger sizes.)
Clan Davidson has its own tartan (plaid) and crest. The motto "Sapienter Si Sincere" means "Wisely, if sincerely."
Here's a glimpse of Kirkcowan in the 1950s. I would guess that it has gone pretty much unchanged from when my ancestors lived there.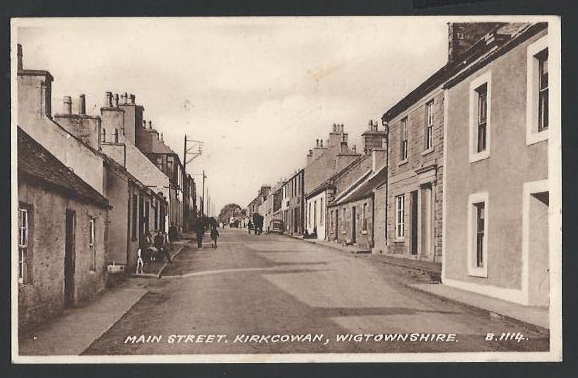 image via.
While we are still trying to determine exactly when the dresser was built, and who the original owner was, we do know for sure that it belonged to James's son, John B. Davidson, and John's wife, Ida Belle (Wilson) Davdison, pictured below. My grandmother remembers them having it (they were here grandparents). Ida's father was also from Scotland. Thankfully, we have some lovely photos of John and Ida.
Whether or not we ever figure out the exact story of the chest of drawers, we will have it to enjoy in our home, and hopefully future Davidson descendants will enjoy it, as well.
The following two tabs change content below.
My name is Kelli Ann Wilson (née Copeland), and I live in Walpole, NH. I am mama to Lillia (12) and Zane (5), and wife to Damian. My interests include: homemaking; photography; genealogy; gardening; and making things.
Latest posts by Kelli Ann Wilson (see all)