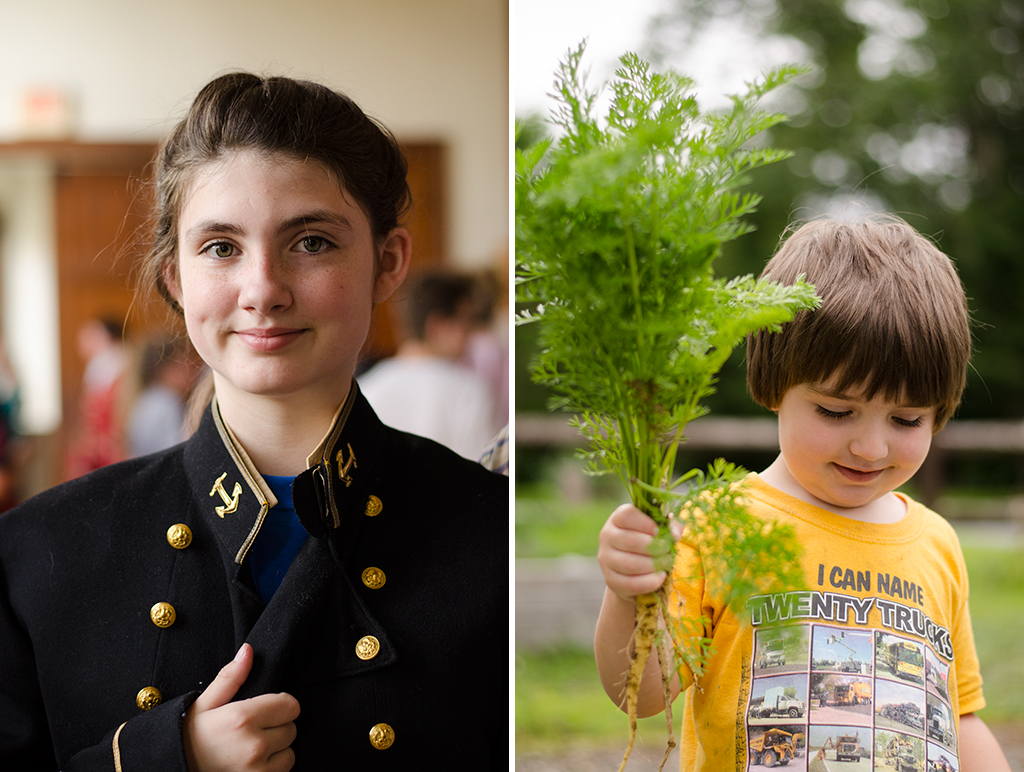 "A portrait of my children once a week, every week, in 2015."
Lillia: We just returned home from the Walpole Players Senior Theatre Camp's performance of "The Pirate Queen", which is the culmination of the last two weeks of learning and practice. I have to say that I was very impressed — with you, of course, but also with all of the other performers — it's not easy to pull off something like this in just ten afternoons. I really appreciated that none of you took yourselves too seriously, and yet the play was genuinely entertaining and many of the performers were very natural and believable in their roles. As "Officer Woodthorpe" you had one of the main speaking roles (17 lines total, in two acts) and you did magnificently. I do hope you continue your theatre adventures as you are, in fact, quite a good actress and I can tell that you really enjoy it. Bravo, Lillia!
(A few more pictures of the play can be viewed HERE.)
Zane: This week you spent two whole days at camp! As I wrote last week, you are a very busy boy, and it takes a lot to keep you entertained. By Monday afternoon of this week I was just plain exhausted, and so I contacted your preschool to see if they had any openings in their summer camp program. We were lucky and they had a Tuesday/Thursday spot still available, so I signed you up right then and there. Of course, it later dawned on me that you might not be ready to be away from home for seven straight hours (or, maybe it was me who was not ready?) but, you did great! You got to play with other kids, which was the biggest selling point, plus you did some fun arts & crafts, played outside, had lunch with your friends, and you even napped on Thursday afternoon (which you haven't done in ages). I'm so happy we were able to find a way to channel some of that wonderful Zane energy.
The following two tabs change content below.
My name is Kelli Ann Wilson (née Copeland), and I live in Walpole, NH. I am mama to Lillia (12) and Zane (5), and wife to Damian. My interests include: homemaking; photography; genealogy; gardening; and making things.
Latest posts by Kelli Ann Wilson (see all)